The AAUW-NW Valley Branch of Arizona cooperated with Glendale Community College (GCC), the GCC Women Rising chapter and the Maricopa County Community College District (MCCCD) staff to discuss and highlight 'UnHappy Hour' and how it relates to the pay equity issue for women.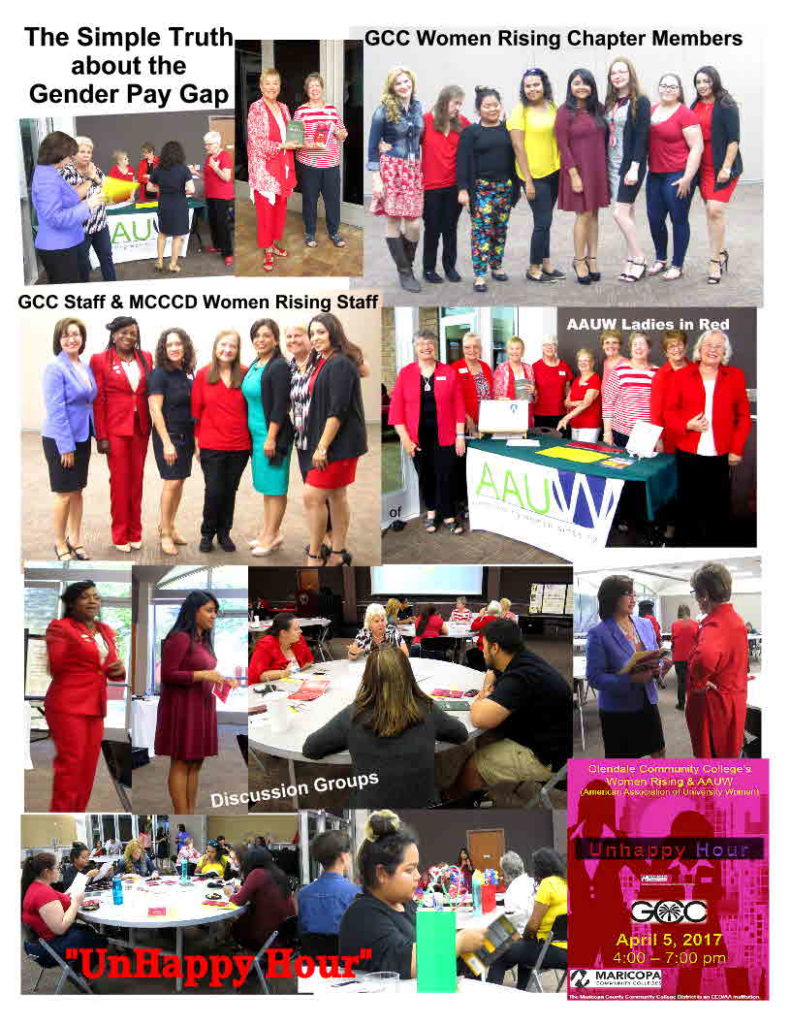 Highlighting the event, AAUW-Arizona President Shirley Talley spoke of the problems associated with the pay deficit for women, the work of AAUW in research, publicizing and advocacy for equal pay for women.  She described for the students AAUW's "Work Smart" program and the importance of learning how to approach and negotiate salary.  Telling the story of Lilly Ledbetter, Talley explained the pay discrimination Ledbetter had been subjected to during the course of her nearly 20 years working for the Goodyear Tire & Rubber Co., her subsequent law suit and the 2009 Lilly Ledbetter Fair Pay Act, designed to help women fight for equal pay.  The ruling provided that the 180-day statute of limitations for filing an equal-pay lawsuit based on pay discrimination resets with each new paycheck affected by that particular discriminatory action.  
In addition to Talley, speakers at the event included Dr. Teresa Leyba-Ruiz, Interim GCC President;  Linda DuVal d'Adrian, AZ Business and Professional Women President; Michelle Traveler, MCCCD Women Rising Coordinator; and Andrea Lucio, President of the GCC Women Rising Student Chapter.  Each of the speakers discussed the lack of equal pay for equal work which still pervades our society and the impact on women. Guests included Joanne Walen, AAUW Arizona Co-President-Elect; Monica Castaneda, interim GCC Vice President for Student Affairs; Laura Dodrill, Interim GCC Dean for Student Life and members of the GCC Student Council.  Participants were provided with a wage gap fact sheet showing the comparison of women's pay to white men  for equal work and how it varies depending on where you work, how old you are, your educational status and race or ethnicity.   
 Although student turn-out was lower than expected, small group discussions were spirited in addressing a series of questions posed for the groups.  Each participant received a copy of AAUW's 2016 report, "The Simple Truth about the Gender Pay Gap".   In addition, many students won door prizes and received a copy of Grace and Grit by Lilly Ledbetter.
 Submitted by  Joye Kohl, AAUW-NWV College Connection Team Member